Best~BIOBASE 800 tests/hour BK-800 Auto Chemistry Analyzer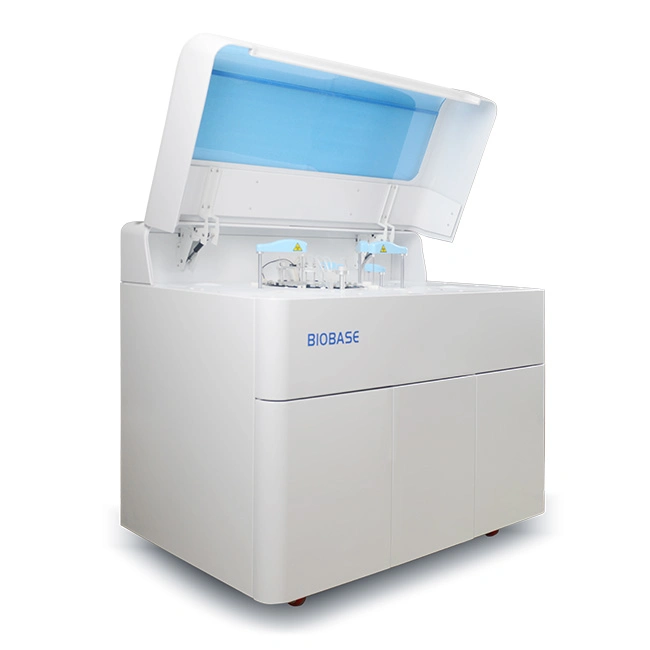 Features:
180 Sample positions.
200 Reagent positions.
160 Reaction cuvettes.
800 Tests / Hour
Features:
1. Fully automated, Discrete, Random access,STAT priority,real-time dual wavelength.
2. Total open setting of items, supported different reagents from different countries.
3. Reversed optics and imported photo sensor make sure the precision of detection results.
4. Microsring injector imported from Germany assures the veracity of a trace of samples,
sample step by 0.1 UL, reagent step by0.5 UL
5. 24 hour non-stop working, convenient emergency function with inserting emergency at random.
6. Implementing analysis of ultra-trace reaction solution to 100 UL, and saving more reagents.
7. Discrete cuvette, preventing from cross-infection, and be washed and reused, making sure accurate result and save cost.
8. Perfect self-detection function makes sure the analyzer in order and accurate result.
9. Software is easy to learn and use. And test report can be printed.
10. Perfect function of quality control management is convenient for users to manage the clinical test result.
11. Detecting in the whole reaction process with reaction curve, convenient for users to monitor thoroughly
and scientifically analyze the detection data.
12. Supporting software can implement the function of detecting surplus reagent through liquid level
induction of reagent probe.
Technical Parameters
Overall

Performance

Model

BK-800(EMERALD)

Type

Discrete, Fully automatic

Throughput

800 tests per hour

Analysis Method

End-point, Fixed-time, Rate, Turbidimetry

Programming Items

Programmable for any test items

Certification

CE, FDA, ISO9001, ISO14001, ISO13485

Sample unit

Sample Position

180 samples, double disk design, including 60 samples for

calibration/quality dribbling refrigerated

Sample Tubes

Original blood collection tube, micro tube, plastic tube, etc

Sample Types

Serum, plasma, urine, etc

Sample Volume

2ul ~70ul (0.1ul stepping)

Sample Probe

Having liquid level induction function,

ensuring the accuracy of adding sample

Probe Cleaning

Automatic washing both interior and exterior ,

cross contamination rate < 0.1%

Analysis Items

Analyzing maximally 100 items at the same time

Reagent unit

Reagent Position

200 reagent positions, dual-tray design

Wash Solution

Washing solution can be installed in any position, including needle,

stir bar washing solution and water bath disinfectant

Reagent Volume

20ul~350ul, 0.5ul increment

Temperature Control

Continuous 2ºC~8ºC cooling within 24 hours

Reagent Probe

Having liquid level induction function, ensuring the accuracy of adding

reagent. Inventory checking

Probe Cleaning

Automatic washing both interior and exterior

Reaction

Unit

Reaction Volume

150ul-550ul

Reaction Temperature

37ºC

Temperature System

Water bath,Real-time temperature display

Cuvettes

160 positions with permanent hard glass

cuvettes (optical path length 5mm)

Stirrer

Independent stir bar, nanotechnology, highly polished,

automatic frequency conversion

Cleaning

Automatic water cleaning and drying system

System Adjustment

System can record the blank value and get more accurate result

by deducting blank base value of each cuvette

Optical

System

Light Source

Halogen lamp, lamp can be auto sleep and wake up

Receiver

Holographic flat field concave grating diode array detection

Wavelength Range

16 wavelengths from 340 to 800nm

Linear Range

-0.3000~3.3000 Abs

Stray Light

< 0.1% or Abs > 3.0

Calibration

and QC

Calibration Method

Linear calibration:K factor, two- and multiple linear Nonlinear

Calibration: spline, polynomial, Logarithm, etc

Quality Control

Auto QC,cooled QC positions

Software

Emergency Function

Emergency sample can be placed in the sample tray at any time

Software

Windows 7/8/10 or above, LIS system available

Online

Full bi-directional communication possible

Data Processing

Having reaction curve detection and data display function

in the whole process

Others

Water Consumption

Deionized water , <45 L/hour

Power Supply

110/220v ±10%, 50/60Hz

Package Size

1720*1200*1430mm

Gross Weight

600Kg