Auto
Bioc
hemistry Analyzer (
25
0tests
/hour
)
HP-CHEM250Y Auto Biochemistry Analyzer is our new designed laboratory popular chemistry analyzer.Perfect designing with table top style,make it much fashion in your lab.And it can be produced by OEM style.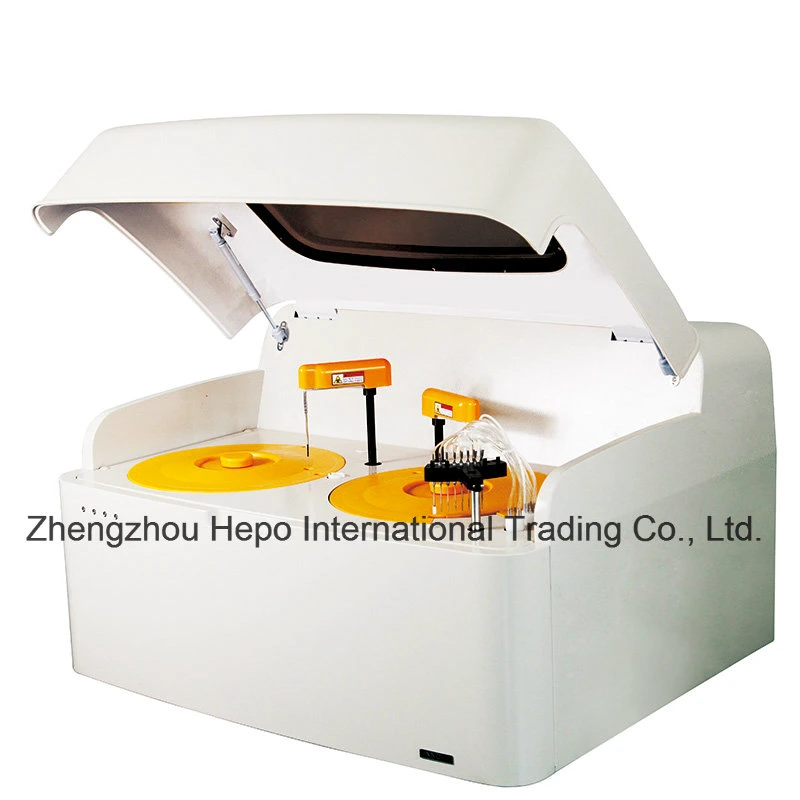 .
Choosing Reasons:
1,Bench top & Floor Style are available;2,Bar cod scanning system and ISE
(K,Na,Cl,Ca,PH)
function are available;3,More wavelength filters are available;4,OEM is available;5,Original Biochemistry Reagents are available;6,Computer,External Printer,DI Water Purification Machine,UPS back up power are available for set along with analyzer;7,Easy buying and operation,no need special installation,site installation service is available.
Main Advantage
:
New concept and more friendly software.

New techniques and spare parts used for much better quality and function.

Automatic washing station for both sample and reagent probe.

Liquid level detection and collision protection for both sample and reagent probe

Reliable cooling system for reagent chamber.

Powerful reaction cuvette washing system.

ISE module and barcode scanner(option).

Lower waste and more environment friendly.

New concept test control system available(on request).
Technical Parameters:
Model

HP-CHEM250Y

Assay Model

Random Access with direct reading syatem

Method

End point,Kinetic,Fixed time,Immunoturbidimetry,1-2 reagent,Multistandard,reagent/serum blank,etc

Assay Item

40 assay

ISE mould (

Na

+

,

K

+

, Cl

-

/LI*) available on request

Throughput

1Reagent

257 tests/hour

2Reagent

150 tests/hour

With ISE

+120 tests/hour

Test Menu

T.BILI r-GT/GGT CHO Ca APOB-1/B CHE

D.BILI ALP/AKP TG CL APOB CREA

TP UREA CK P CK-MB Mg

ALB CREA LDH C ASO AFU

Lactic Acid ALT/GPT UA a-HBDH CO2 FMN

LP(a) AST/GOT GLU AMY LDL-C HDL-C

CHE LA TBA ADA HA-CRP PA

FE Cu Zn C3 C4 lgG

IgM lgA and drug ,toxicity ,etc

Sample Position

60

Including standard,control and stat,either serum cup primary tube available

Sample Volume

1~100ul,0.1ul/step

Reagent Position

40 or 80 (optional)

Reagent Volume

R1:1~400ul,1ul/step ,R2:1~400ul,1ul/step

Reagent/Sample Probe

With liquid level sensor,collision sensor,teflon coating and automatic washing station

Reaction Time

0~999 seconds

Cuvette

High quality uv-transmitted plastic cuvette,Quartz glass cuvettes

Cuvette Washing

8 channels automatic washing system for reaction cuvettes

Probe And Mixer Washing

Independent washing station for each sample/reagent probe and mixer

Alarm

Automatic alarm for malfunction(eg:collision,reagent/sample insufficiency,full waste container,etc)

Callibration

Linear,Non-linear,Multi standard ,K factor

Sample Dilution/Retest

Sample can be diluted and retested if results are out of range or sample is insufficient,Also with calibrator auto diluting function

Wavelength

340~810nm

Light Source

Halogen lamp

Absorbance Resoulution

0.0001A

Absorbance Accuracy

±0.0003A(0-2.5A)

Repeatability (CV%)

≤2 %

Quality Control

Levy Jennings quality control program at 3 levels

Bar Code

Optional

Printer

Multiple report formats available

Test Control Function

New card control system available on request

Language

English,French,Spanish,German,Russia.etc

System

Windows XP or Vista ,Windows 7

Power Supply

220V/50HZ or 110V/60HZ (optional)

Dimension

85*72*53(cm)

Weight

85kg
Note:
One year quality guarantee and 24 hours phone service for all the products supplied.